Festivals & Celebrations in the "Alte Hammerschmiede"
Where the blacksmith's hammers once echoed and the horses were shod with horseshoes, today the "Alte Hammerschmiede" with centuries-old walls and open fireplaces is a particularly original location for atmospheric parties and celebrations.
For events of up to 50 people – for birthday parties, weddings, anniversary celebrations, business invitations,
The Alte Hammerschmiede is an incomparably original guest room for company celebrations or team events.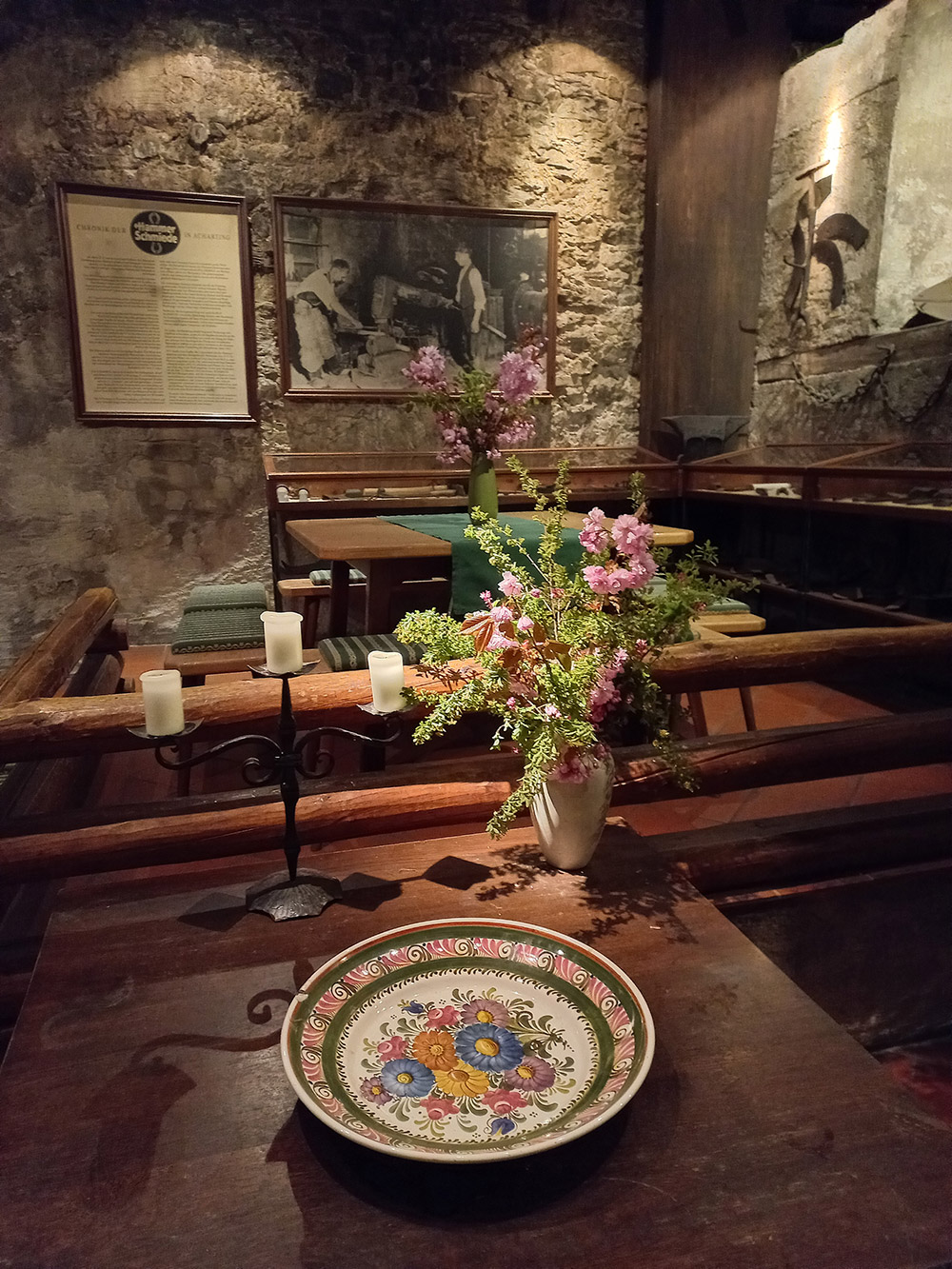 An evening in the "Alte Hammerschmiede"
for groups from 25 to 48 people
We offer your guests an atmospheric reception in the midst of our romantic forest backdrop – Aperitif negotiable
Here is a menu suggestion for a dinner in the Alte Hammerschmiede:
"Hammerschmied-Culinaria"
Grilled meat specialties from the red-hot smith's forge: pork, turkey steak, chicken fillet, spicy sauce, baked potatoes with sour cream and herb dip, vegetables from the pan, fresh salad, crispy nut baguettes
EUR 27,– per person
Dessert
Plum fritters (a speciality of the region) € 5.80
At your personal celebration, you can bring home-made cakes or pies as dessert for consumption – with no charge for crockery and cutlery
Beverages
Particularly popular with us: Salzburg Augustiner beer from a wooden barrel – 15 liters or 25 liters –
for self-service – in a 1/2 liter beer mug
or Augustiner beer botteled
House wines from the "Sonnenhügel" winery in Unterretzbach in the Weinviertel
or bottled wines according to the wine list,
soft drinks
We would be happy to discuss all the details with you and make you an individual offer.
Satisfied guests and an atmospheric course of your celebration are very important to us!

We are also looking forward to reserve our hotel rooms for your guests!

Please contact us if you are interested in hosting your celebration in our "Alte Hammerschmiede"!