Save journey
How to find us
Street: Hammerschmied-Straße 9
Location: Anthering-Acharting near Salzburg
Region: Salzburg area
Nature Idyll Hotel 'Hammerschmiede' in a unique, secluded location. In the middle of a romantic forest glade, the Hotel im Wald Hammerschmiede is only 9 km away from the city of Salzburg.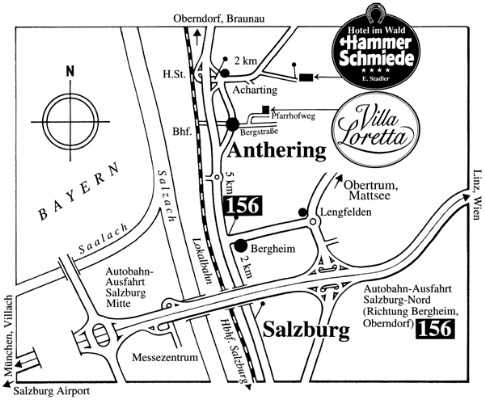 BY TRAIN
environmentally friendly arrival and departure
Local train from and to Salzburg.
The local train station is located in the basement of Salzburg Central Station. There is a local train ("Lokalbahn") every half hour to ACHARTING station (17 minutes travel time).
ATTENTION, demand stop: press the red button before getting off!
For hotel guests staying overnight: free transfer to the hotel (2 km) if booked in advance.
Download the Salzburg Local Railway timetable here
BY CAR
Free parking in front of the hotel,
E-car charging station – fee approx. € 7-10
Important note for navigation systems:
Our street name was changed from Acharting 22 to Hammerschmied-Straße 9. Please note when entering data in the navigation system, as this change has not yet found its way into all navigation systems!
From direction Vienna: Motorway exit Salzburg-Nord (A1), Bundesstraße 156 (direction Braunau), Bergheim, Anthering, exit to Anthering ACHARTING, 2 km into the forest.
From direction Germany: Motorway exit Bergheim West (A1, after the Messe exit), continue on the B156 see above.
For those arriving from Germany there is currently no obligation to use a vignette for the toll route A 1 west autobahn between the German state border at Walserberg and the Salzburg Nord junction
Here you can find more information about the mandatory vignette in Austria
BY TAXI
from Salzburg main station to the hotel approx. EUR 23 (journey time approx. 10 min.)
from Salzburg Airport W. A.